3 Gladde Solar schuifluiken voor MS Mededinger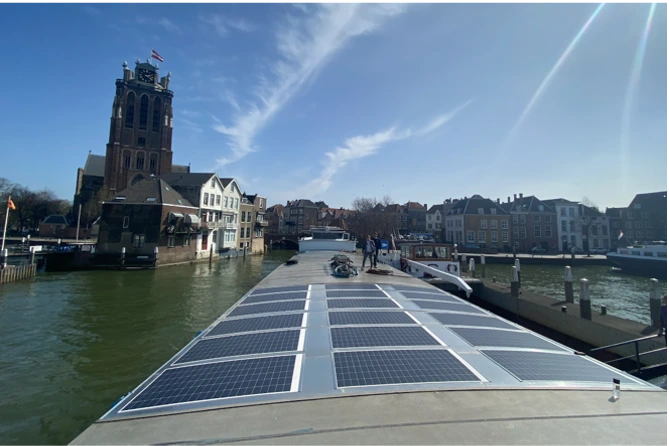 MS Mededinger has installed a third Solarhatch after positive experiences with two Solarhtches.
There are several reasons as to why the van Wijngaarden's decided to go for Solarhatches. They found shore power would malfunction regularly and having to carry power cables to and fro was not ideal. In addition, the family did not feel comfortableleaving the generator running as it would smell bad and create noise pollution. They were also not happy with the combustion. Due to this reason, together with the high fuelprices and the desire to creat a more sustainable world, they decided to try out our Solarhatches.
"You feel slightly guilty for the noise that is created by the generators. We have a responsibility to ensure the livability at the waterfront."
Because the use of the generator has been reduced significantly, there is a significant amount on fuel savings annually. In addition to the direct fuel savings, the van Wijngaarden's experience a lot less inconvenience from the generators. Less use of the generator also leads to less off its wear and tear, savings on filters and lube oil. The generator also lasts longer. The purchase of a battery pack has allowed all appliances, including the 380V appliances, to run on battery power. On sunny days, the generator isn't even required to be on, not even for the boiler.
"We hebben al weken gehad dat we de generatoren niet aan hebben gehad."

When retracting the Solar hatches, the family does not notice any difference compared to a normal sliding hatch. Cleaning the hatches is done using water without any soap. The plug connections of the MS Mededinger are in the den on the side where they are usually already positioned. Mr van Wijngaarden is also very happy with the communication between him, Blommaert and Wattlab. After positive experiences with 2 Solar hatches, the van Wijngaarden family has ordered a third Solar hatch, totaling 9.72 kWp.
"Stekkeren is een paar tellen werk, dat is zo gebeurd."